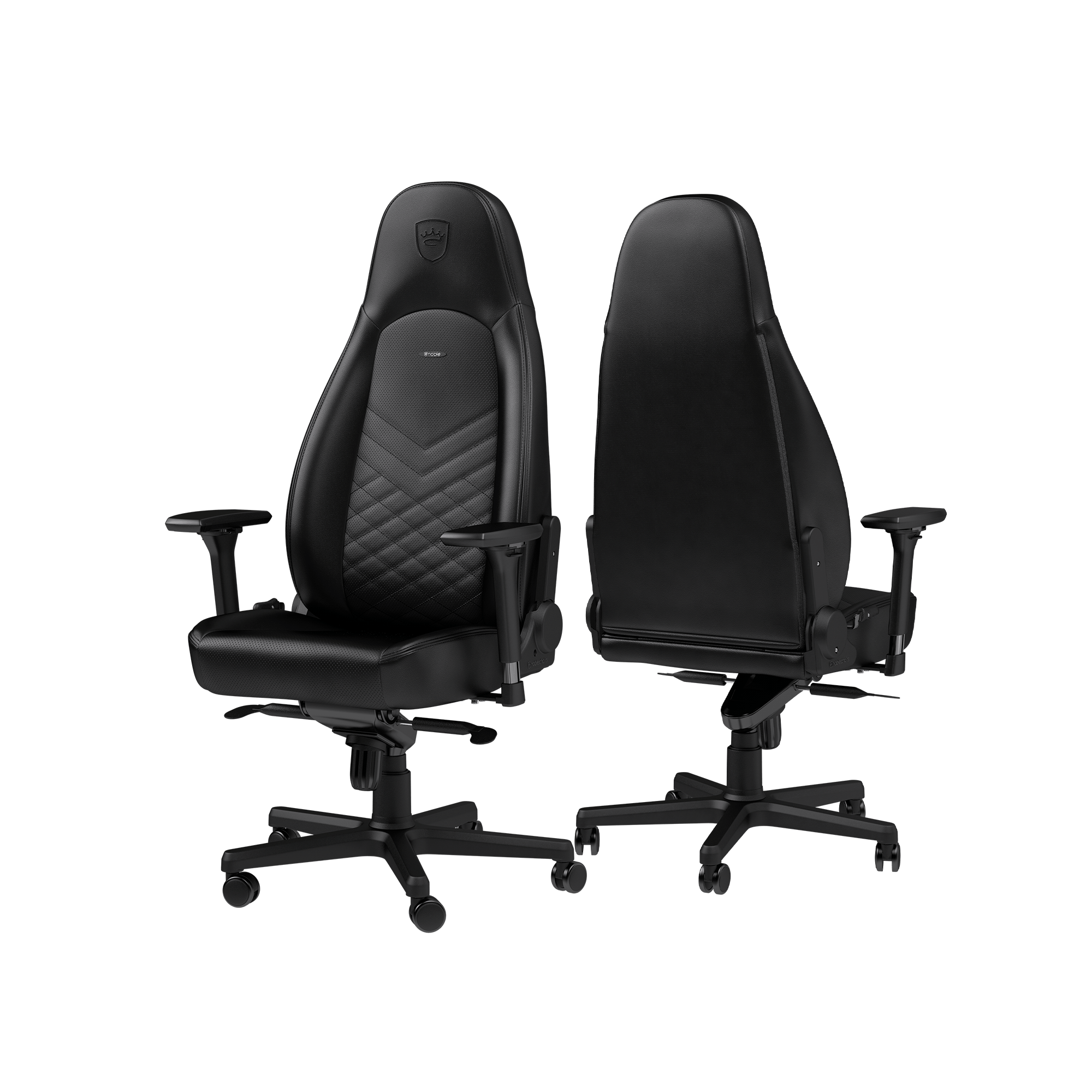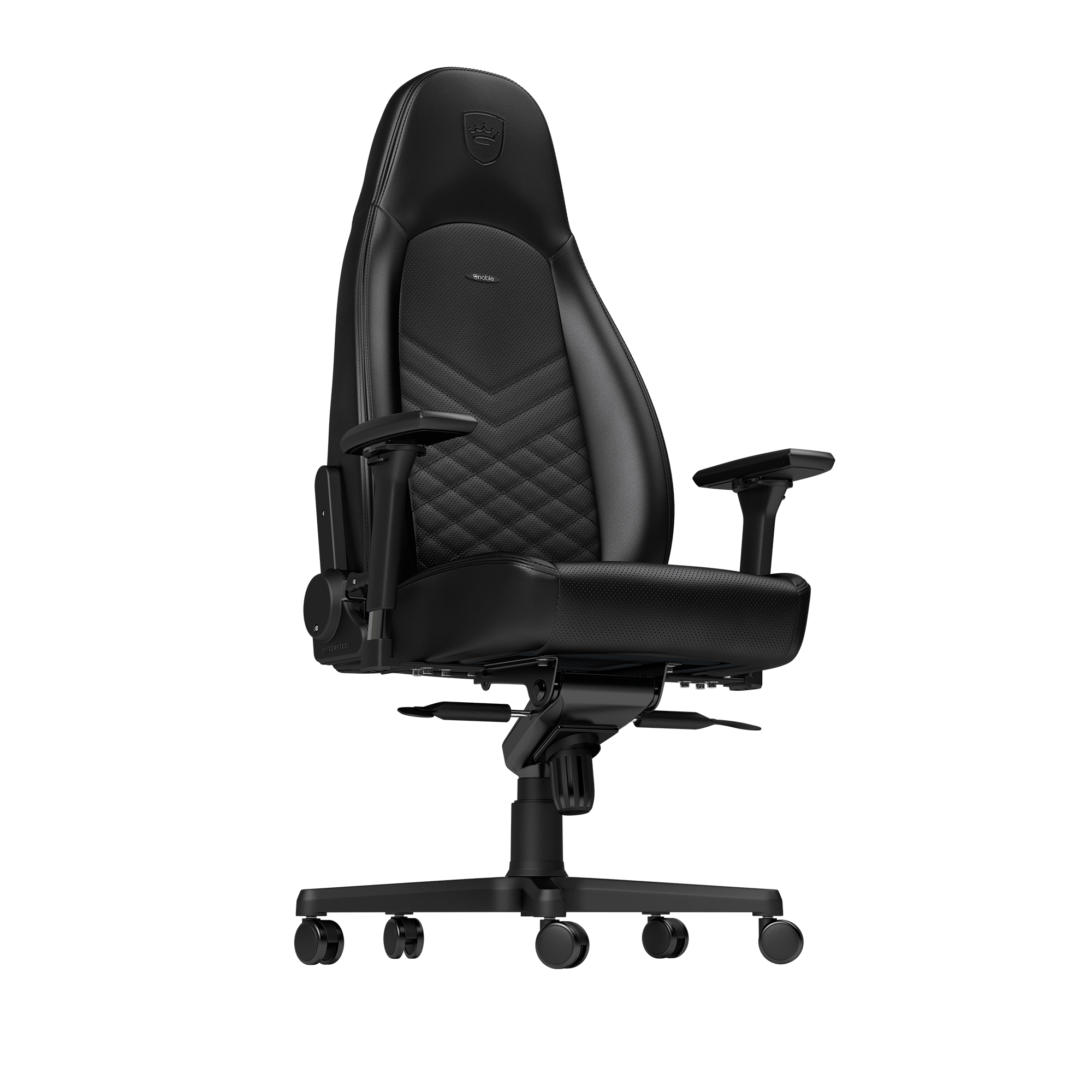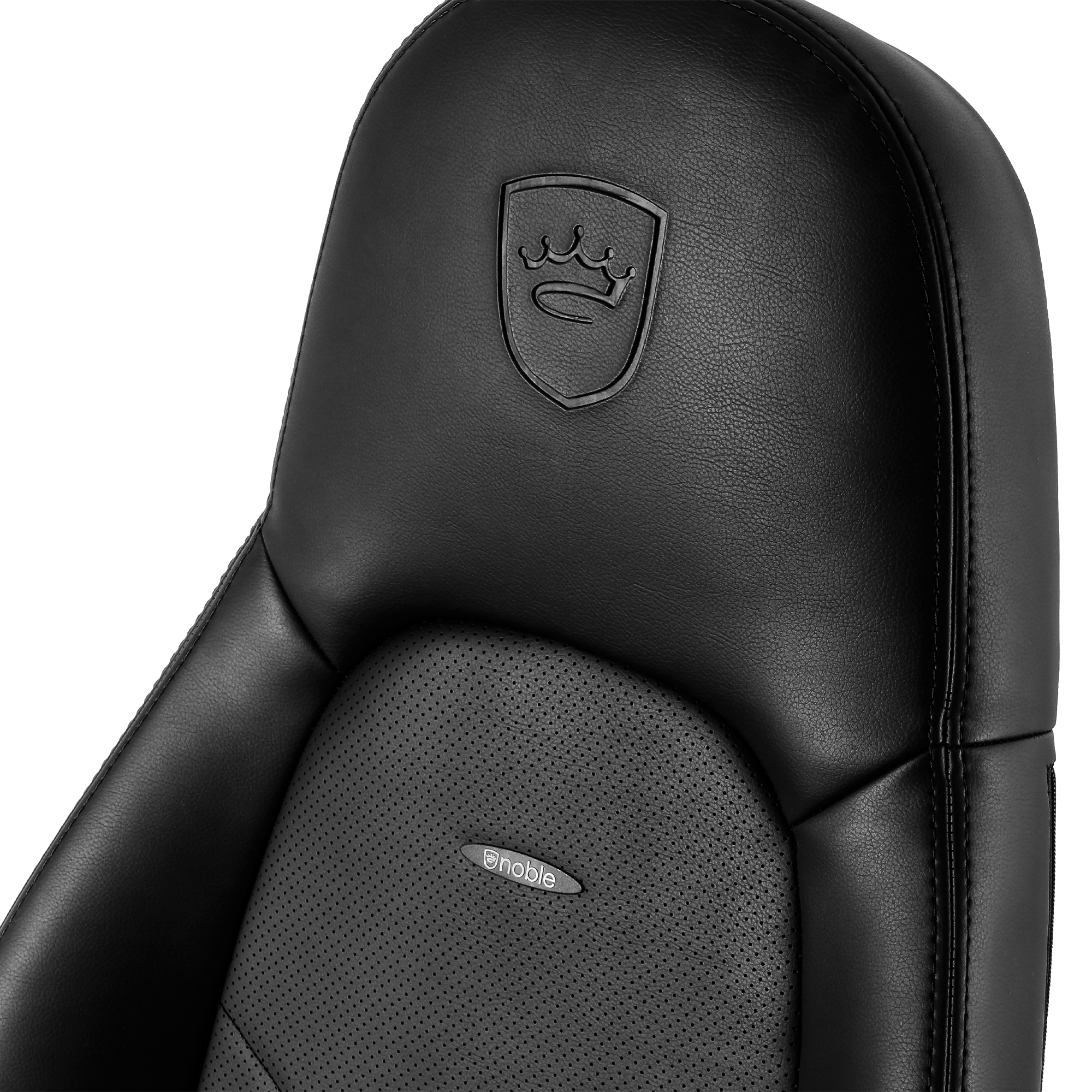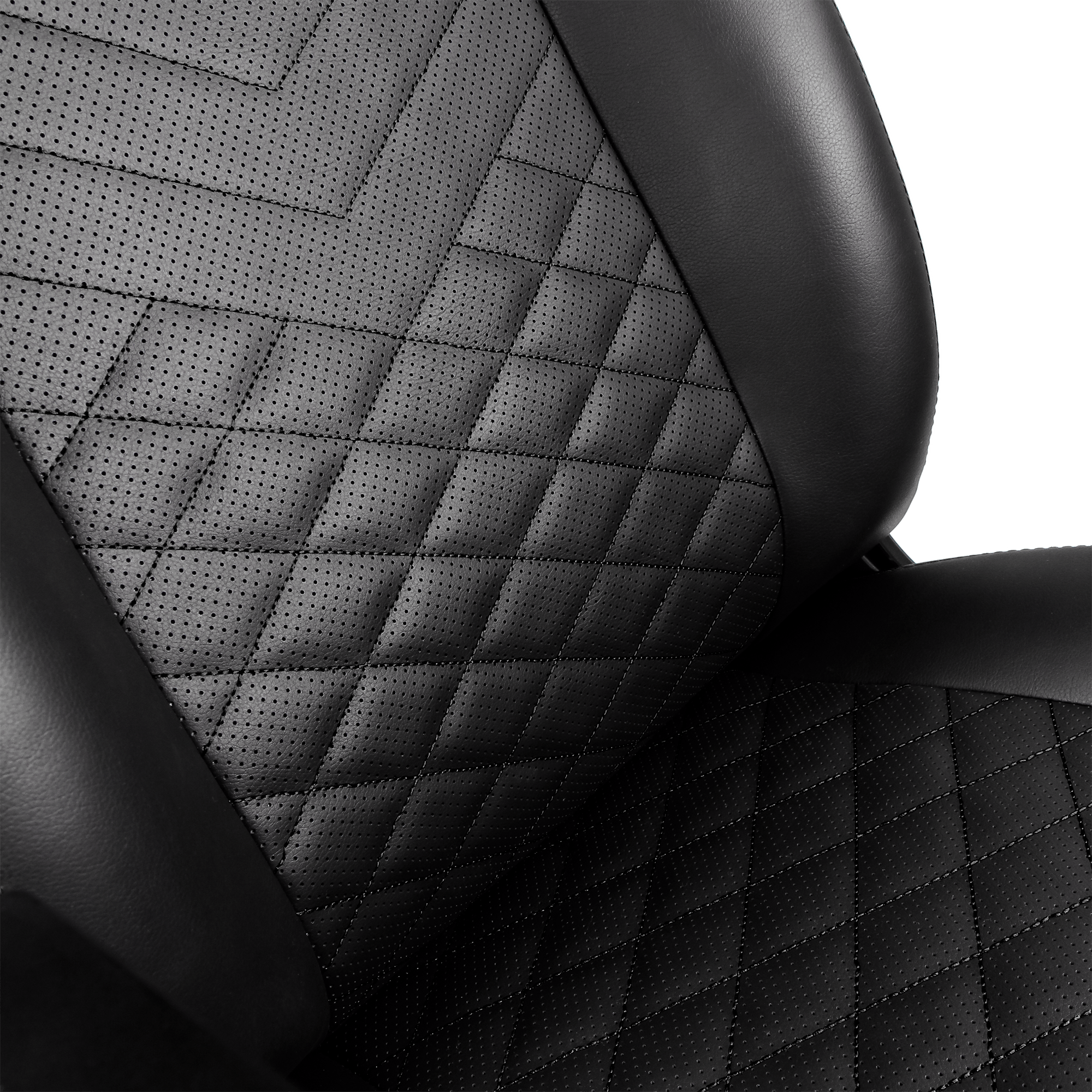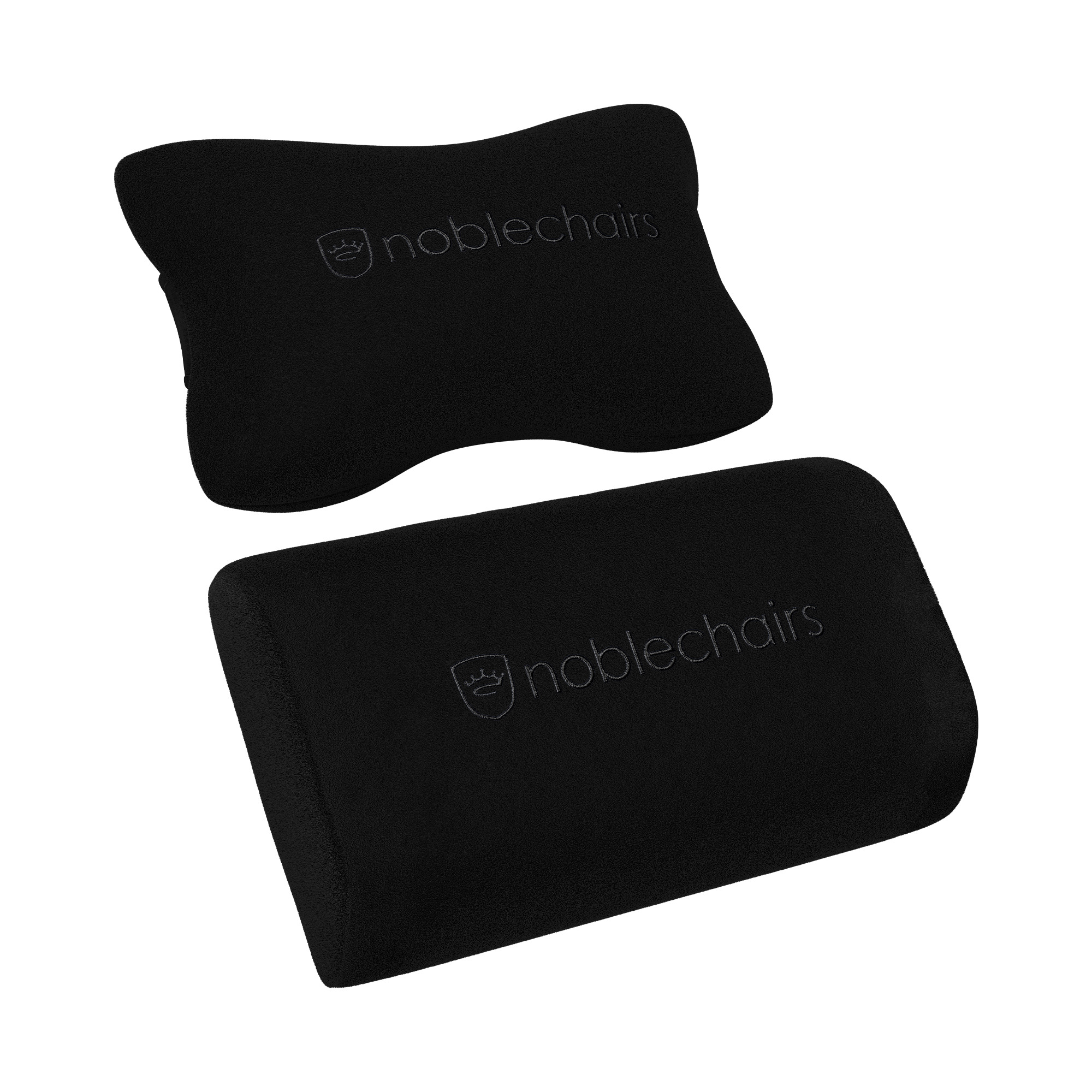 chevron_left
chevron_right
ICON Black / Black
Premium gaming seat from noblechairs, PU-imitation leather in black/black, comfortable cold foam upholstery, superb ergonomics thanks to its adjustability, 60 mm castors, supports up to 150 kg. Premium cushion set included.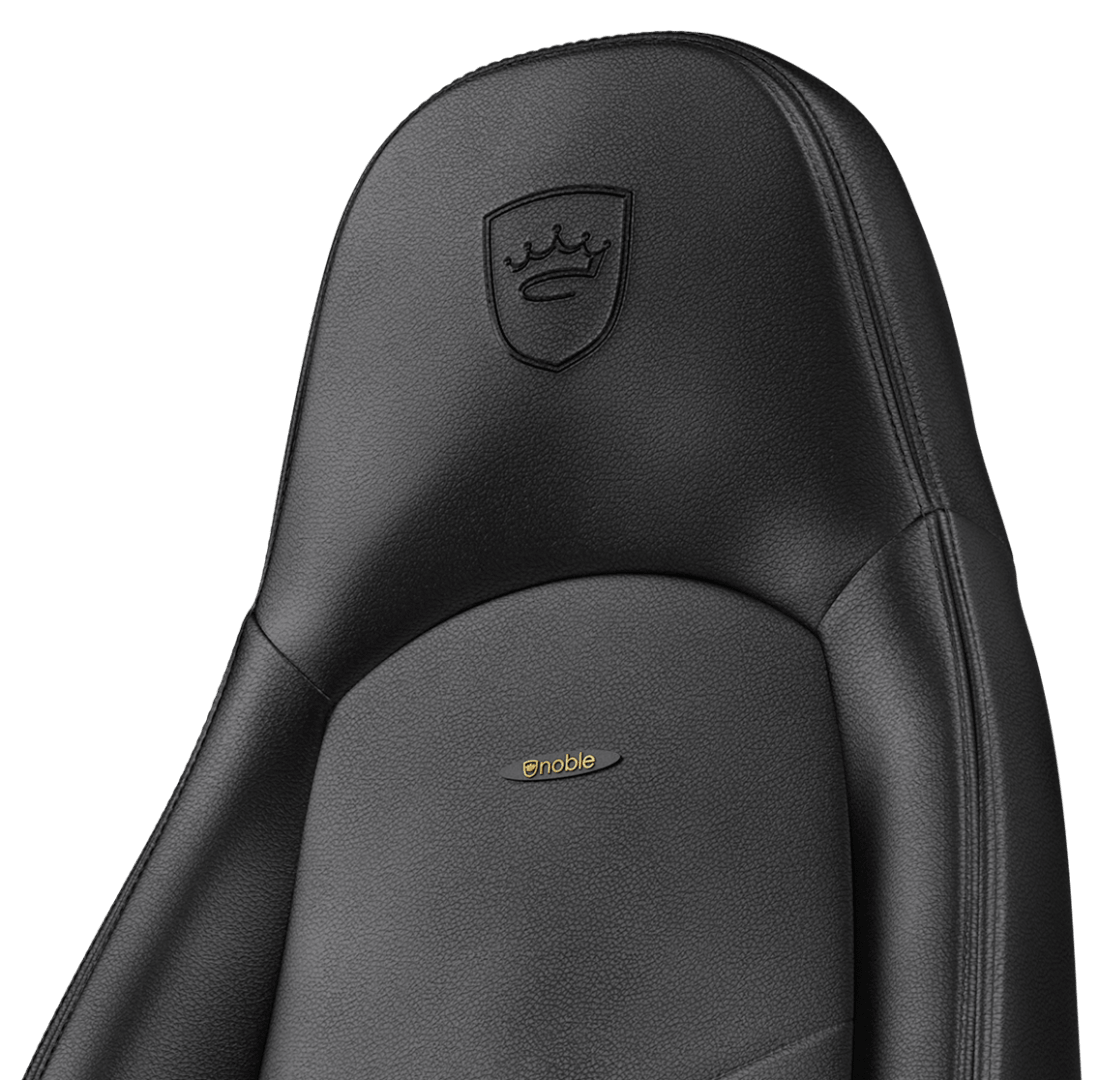 REVOLUTIONARY SEATED EXPERIENCE
noblechairs standards make for an unmistakable combination of aesthetics, luxurious materials and absolute comfort. It is due in no small part to the industrially automated precision manufacturing, with the end result being an unparalleled blend of flawless craftsmanship that helps to make the noblechairs seated experience a joy.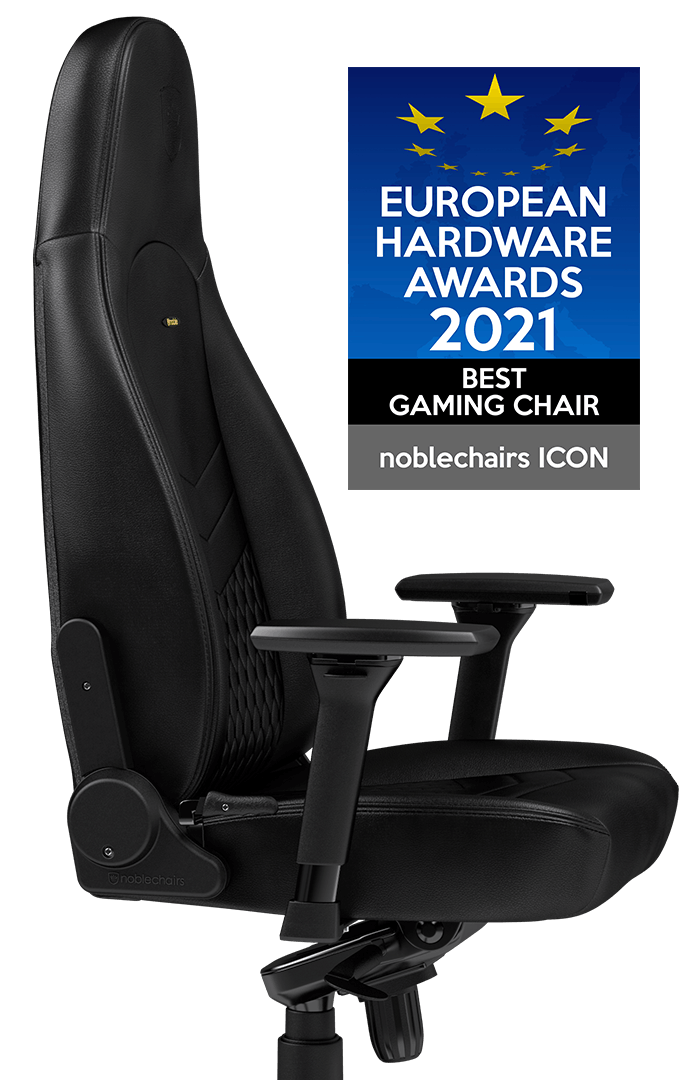 ELEGANCE & ERGONOMICS
In addition to the impressive aesthetics of noblechairs, they are characterised by their distinct shape and the use of breathable, deformation-resistant breathable cold foam upholstery. It is the use of this high-density foam that helps the chair retain its shape over extended periods of time, effectively distributing the load while preventing users sinking too deeply into the upholstery.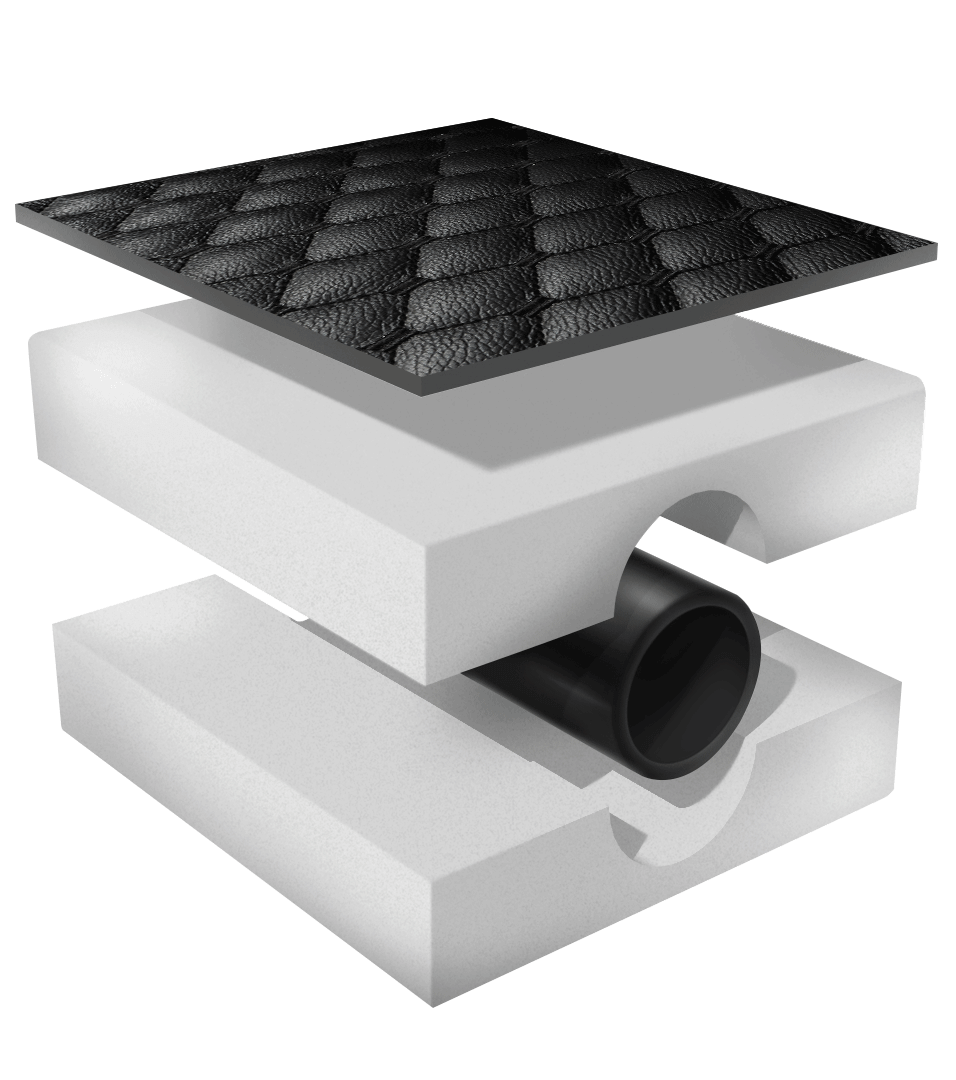 PREMIUM MATERIALS
When it comes to the covering materials used in our noblechairs, there is something for every taste: Vegan PU leather complete with delicate stitching, genuine real leather with unsurpassed breathability, or even supple nappa leather for unparalleled aesthetics.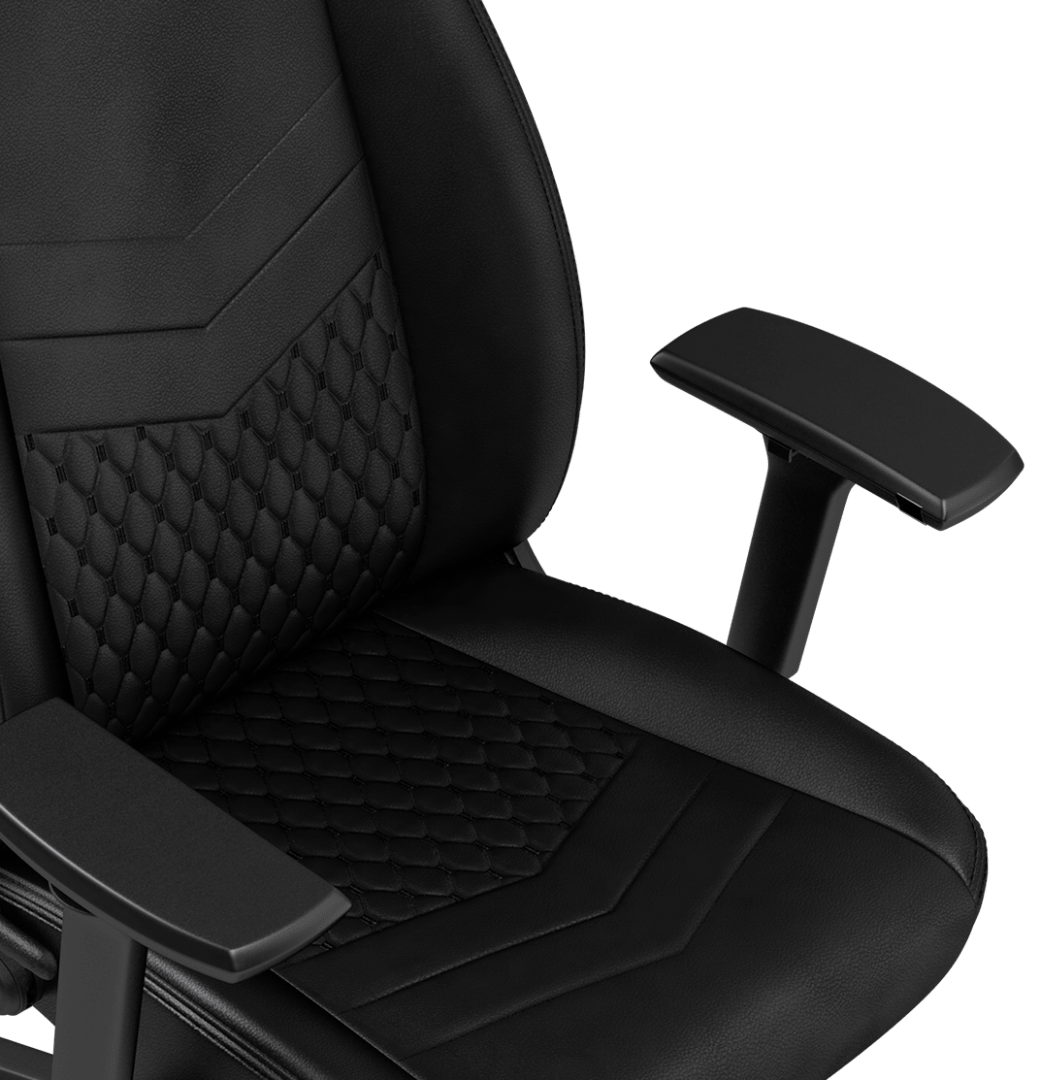 4D ARMRESTS
The noblechairs 4D armrests offer maximum adjustability across four dimensions: horizontally, laterally, vertically (height) along with an adjustable tilt angle. This makes achieving optimal ergonomics in line with your individual desk remarkably easy.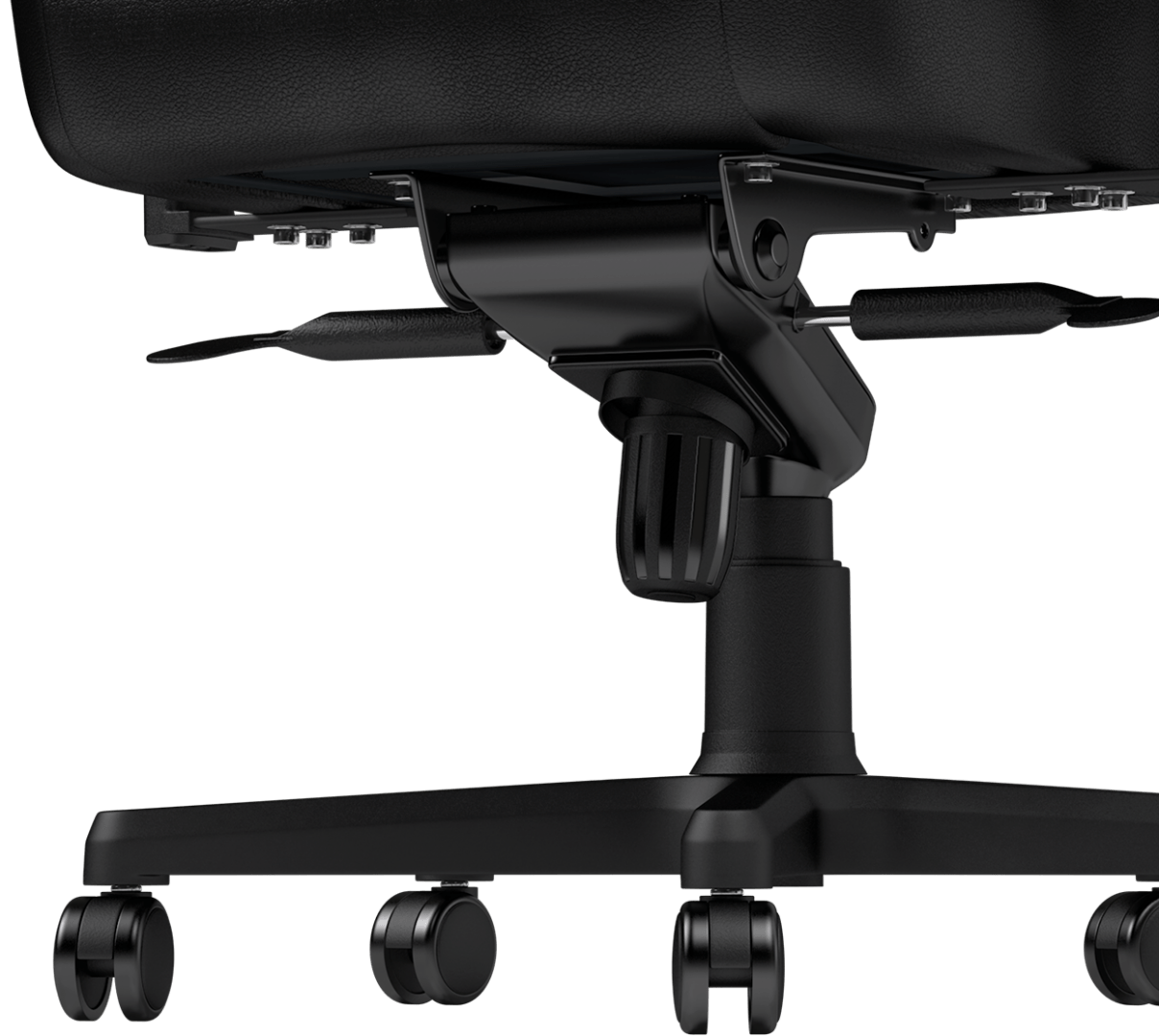 ROBUST BASE
The matt black powder-coated base of our noblechairs consists of robust solid aluminium and this supports a weight of up to 150kg.
Specifications
Practical tilting function (max. 11°)
4D Armrests with maximum adjustability
Adjustable angle of the backrest (90° to 135°)
Adjustable seat height (approx. 46,5 – 56,5 cm)
Two comfortable cushions included
Deformation resistant cold foam
Durable hydraulic gas lift (Class 4)
Robust aluminium base
60mm Casters for hard- and soft flooring
Durable steel core
Max load of up to 150 kg
Manufacturer's guarantee: 2 Years
Weight: approx. 28 kg
Armrest depth: 24.5cm
Armrest width: 10cm
Backrest height: 86cm
Contact area of the backrest: 29.5cm
Seat depth: 49cm
Seat width: 51.5cm
Contact area of the seat: 34cm
Seat height: 46.5-56.5cm
Total depth: 57cm
Total height: 126.5 - 136.5cm
Material
Steel (frame)
Cold foam (upholstery)
Top grain leather, nappa leather or PU leather (cover)
Aluminium (base)
Nylon / polyurethane (casters)
Polyurethane (armrests)
Assembly Instructions Video
rein setzen und wohl fühlen
by chiller
Endlich ein bequemer Büro im Homeoffice der auch noch richtig nobel aussieht.
---
Absolut preiswerter Stuhl
by Dominik
Ich habe den Noblechair Icon jetzt seit einem Jahr und muss hier mal eine Bewertung abgeben. Der Bürostuhl ist in perfekter Zustand angekommen und war sehr gut und platzsparend verpackt. Der Aufbau war in ca. 20 - 30 Minuten vollbracht. Ich habe mir diesen Stuhl in erster Linie gekauft, weil ich sehr viele Stunden (ca. 6 - 8 Stunden) vor dem Rechner sitze. Ich war von Anfang an von diesem Bürostühl begeistert, habe aber erst in den letzten drei Monaten gemerkt, wie hochwertig und preiswert er ist. Ich hatte in den letzten drei Monaten das Distance Learing, weshalb ich von in der Früh bis auf Nacht vor dem Rechner gesessen bin. Der Bürostühl hat sich nach dieser sehr intensiven Nutzung nicht Mal ein wenig abgenutzt oder, dass die Polsterung am Sitz zusammengedrückt wurde. Sollte der Bürostuhl irgenwann mal kaputt gehen, dann kaufe ich mir zu 100 % noch mal einen Noblechair Icon.
---
Einfach nur Spitze
by Tom
Nach gut einem Jahr im Besitz dieses Stuhls ist es glaub ich Zeit für eine Bewertung. Es gibt eine negative Sache die ich loswerden muss. Und zwar die Gasdruckfeder. Mit 1,90m Körpergröße musste ich leider die Feder fast vollständig ausfahren um die Füße bequem am Boden abzustützen und dadurch wurde diese etwas Instabil beim Kippeln. Aber wurde durch eine Längere ausgetauscht und das Problem somit gelöst. Die Verarbeitung von Sitzfläche/Rückenfläche/Armlehnen und sogar Drehkreuz is einfach Spitze. Ok für den Preis auch zu erwarten.... Auch bei längeren Zock-Sessions (6-8 Std) keine Verspannungen im Nacken oder Rücken. Durch die extrem anpassungsfähigen Armlehnen optimal einstellbar für Maus und Tastatur. Sind übrigens nicht aus hartem Kunststoff sondern leicht gepolstert. Fühlt sich an wie eine Art Gummi. Genial sind auch die extreme Liegepositionen die man mit dem Stuhl einnehmen kann ohne zu Kippen. Wer einen Monitorhalter mit Gaslift an der Wand hat und mit Controller spielt weiß was ich meine ;D Einfach nur gemütlich. Zur Pflege benutze ich ca. alle 3 Monate eine Pflege-Milch für Leder und Kunstleder. Das Kunstleder sieht aus wie am ersten Tag. Alle Daumen nach oben für das Produkt.
---